The Ultimate Guide to Private Spas:
Luxurious Wellness Retreats at Your Doorstep
Unwind and rejuvenate in the comfort of your own home with a private spa, the epitome of relaxation and self-care. As private spas continue to rise in popularity, this comprehensive guide will explore the allure, design and features, wellness benefits, and the trend of incorporating private spas in residential complexes.
The Ultimate Guide to Private Spas
The Allure of Private Spas
Having a private spa in your residence offers numerous benefits that enhance your well-being. It provides convenience, allowing you to enjoy the spa experience at any time, without leaving your home. The privacy afforded by a private spa ensures uninterrupted relaxation, allowing you to truly disconnect from the outside world. Additionally, a private spa saves time by eliminating the need for travel to a public spa or wellness center.
Exploring Private Spa Design and Features
Private spas offer a wide range of design options to suit individual preferences and spaces. Whether it's an indoor haven for year-round relaxation or an outdoor retreat surrounded by nature, the choice is yours. Hybrid models provide the best of both worlds, allowing you to enjoy the advantages of both indoor and outdoor environments.
Unraveling the Wellness Benefits
The wellness benefits of private spas are extensive and undeniable. Scientific research and expert opinions validate the positive impact private spas have on overall well-being. Regular use of a private spa has been proven to reduce stress, alleviate pain, improve sleep quality, and enhance mental well-being.
Creating a Haven of Wellness:
Residential Complex Spas with Sauna Dekor
In today's world, where well-being is a priority, the trend of luxurious private spas in residential complexes and luxury homes has gained tremendous momentum. As discerning residents seek more than just a product, developers are increasingly prioritizing the inclusion of private spas in their projects. Sauna Dekor, the master creators of exquisite private spas, understands the allure of this trend, and our passion for crafting unique wellness experiences motivates us to provide valuable insights on designing and integrating private spas into upscale environments.
Drawing from our expertise in designing and curating private spas for the most discerning clients, Sauna Dekor infuses residential complex spas with an unparalleled sense of luxury and sophisticated tranquility. Our commitment to excellence and attention to detail ensures that every private spa we create exudes an ethereal ambiance that nourishes the body, mind and soul. Our services are not just about selling saunas; we take our customers on a journey towards serenity, balance, and wellness.Imagine the exquisite masterpiece of a private spa nestled within the comfort of your residential complex or luxury home. Every detail whispers luxury, every moment crafted with love, creating a haven of wellness that transports you to a realm of luxurious relaxation. With Sauna Dekor, let every brushstroke add depth and texture to the canvas of your brand story and elevate your home to new heights of luxury with our residential complex spa offerings. Welcome home to wellness with Sauna Dekor.
Private spas offer a luxurious and convenient wellness retreat within the comforts of your own home. This guide has explored the allure of private spas, their design options, wellness benefits, and the trend of incorporating them in residential complexes. We encourage readers to explore the provided web pages for more information and inspiration. Embrace the transformative potential of private spas and embark on a journey of relaxation and self-care."
Transforming Your Home into a Luxurious Private Spa
Introducing our Private Wellness Collection – a perfect blend of relaxation, rejuvenation, and well-being right in the privacy and comfort of your own home. At Sauna Dekor, we believe that taking care of yourself and nurturing your wellness is not just a luxury but an essential part of daily life. With our innovative solutions, we bring the ultimate spa experience to your residential space.
According to a study by authorities, a leading wellness solutions provider, incorporating a private spa into your residential property has numerous benefits. It promotes a healthy lifestyle, reduces stress, and improves overall well-being. In fact, 83% of surveyed households with a private spa reported using it at least once a week, highlighting the value and popularity of this wellness trend.
Unveiling the Ultimate Spa Experience for Residential Properties
Our mission is to create comfortable and technologically advanced environments that seamlessly integrate wellness and health into your everyday life. Our Private Wellness solutions are designed to meet the desires of those seeking a wellness experience within the confines of their home, even in small spaces.
With meticulous attention to detail, our wellness solutions offer professional-grade spa performance right at your doorstep. Crafted with the finest quality materials and stunning designs, our products guarantee an immersive wellness experience that surpasses expectations. Each project we undertake reflects our commitment to excellence in every wellness area.
Immerse yourself in the delightful warmth of a Finnish sauna, where tensions melt away and your body and mind find regeneration. Our innovative sauna cabin offers a dry and intense heat that embraces you, providing a haven of tranquility and relaxation.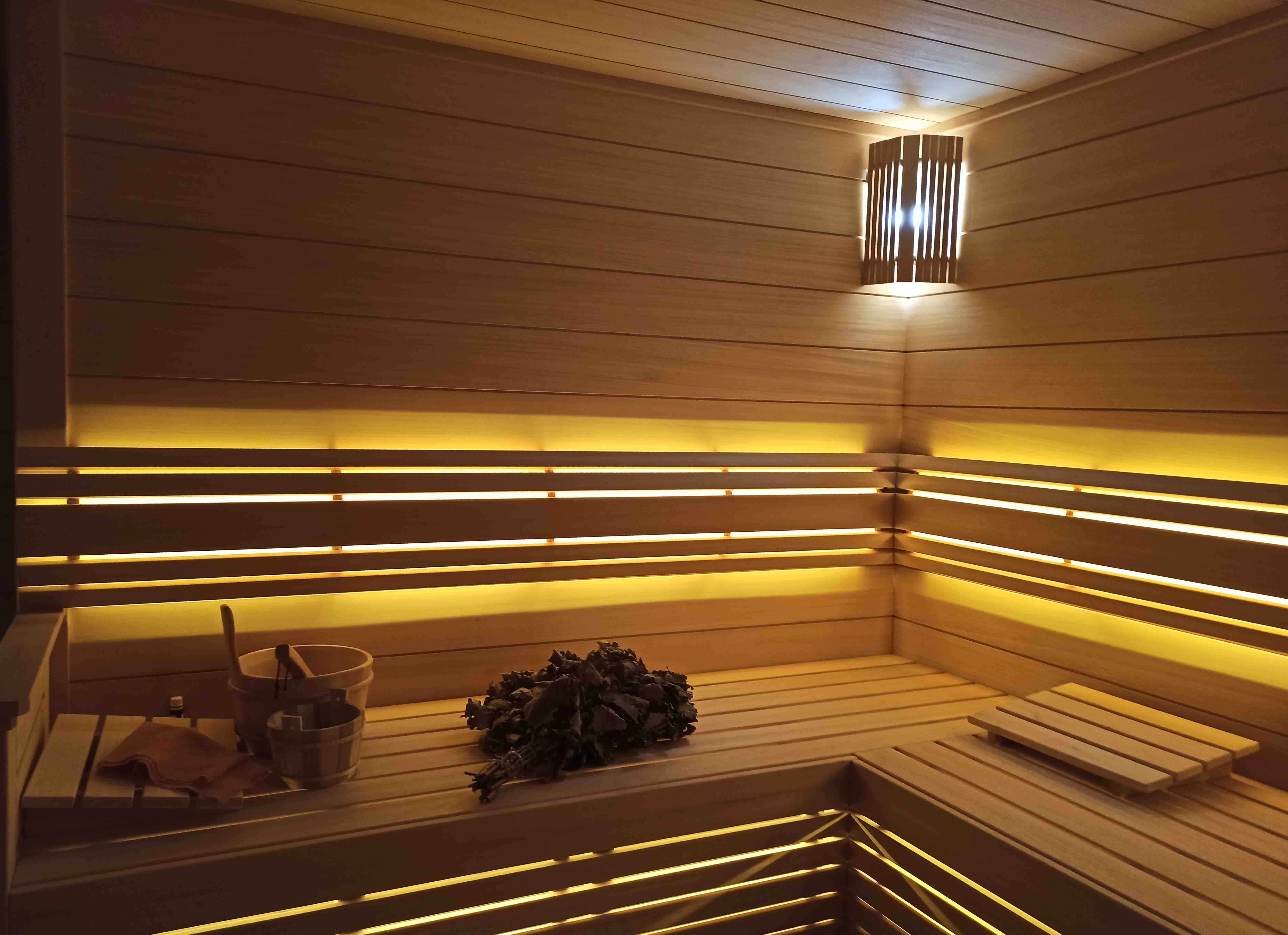 Discover the Perfect Sauna Designs for Your Residential Oasis
Experience the luxurious benefits of a steam bath, where moist heat promotes natural skin exfoliation and deep well-being. Our elegant steam cabins combine air, steam, and fragrances to create a rejuvenating experience that envelops your senses.
Discover the power of infrared rays in our custom-made Wellness technology, designed to relax muscles and deeply regenerate your body. Unwind and rebalance with soothing light that promotes daily well-being, creating harmony from within.
Transform your daily shower into a moment of absolute well-being with our exclusive environment that combines the indulgence of moist heat with the refreshing touch of water, leaving you feeling revitalized.
At Sauna Dekor, we understand the importance of balance and recovery. That's why we have developed Reaction Therapy systems that help rebalance the body functions and temperature after exposure to heat, ensuring a complete psycho-physical regeneration, right in the comfort of your home.
Creating a Relaxing Spa Haven in Your Private Residential Sanctuary
Immerse yourself in a multi-sensory journey and indulge in moments of absolute pleasure with our hot and scented showers. Their dim color lights offer a truly captivating experience that enhances your well-being.
Embrace the future of residential living by creating your own private spa oasis. Our innovative solutions cater to reduced spaces, making the most of advanced technology and scientific research to offer physical and mental regeneration in every moment.
Enhance your home spa with essential elements such as textiles, accessories, and fragrances that create an exclusive environment for recharging your energies and nurturing both your body and mind.
Enhance Your Residential Property's Value with Custom Spa Installations
Unwind and recover in the comfort of your own home with our dedicated Recovery Station, designed to support the psycho-physical regeneration of sporty individuals, ensuring that your training doesn't end with your workout.
Sleep is paramount to our well-being, and our Sleep Station has been crafted with this in mind. Designed to aid falling asleep and promote deep relaxation, it is the perfect solution for individuals experiencing sleep disorders.
If you are designing or renovating communal areas in a residential complex, consider adding authentic and exclusive wellness solutions. Offering a wellness-oriented living space with services dedicated to well-being can add significant value to the building.
Sauna Dekor is dedicated to providing tailored solutions that prioritize your unique needs and aspirations. We create spaces that allow you to relax, take care of yourself, and recharge your energy in a private and cozy dimension.
Join us on a journey towards holistic well-being, where your home becomes your personal sanctuary of tranquility and rejuvenation. Explore our Private Wellness Collection and unlock a world of wellness within your reach."
Elevate Your Yachting Adventures with Onboard Spa Solutions
Embark on a voyage of supreme luxury and tranquility as Sauna Dekor presents a realm of lavish possibilities for boats and yachts. Elevate your yachting experience to new heights with our exquisite onboard spa solutions, crafted with utmost care and precision. Delight in the serenity and opulence of private spa experiences that will leave you refreshed, rejuvenated, and utterly mesmerized.
Private spa solutions for boats and yachts offer an oasis of serenity amidst the vast expanse of the open sea. Imagine indulging in the gentle embrace of warm waters, enveloped in a world of pure relaxation. Our carefully curated selection of private spa offerings caters to the discerning needs of our esteemed clientele, fostering an environment of ultimate luxury and personalized wellness.
Escape the conventional and immerse yourself in the world of private spa experiences specifically designed for boats and yachts. Unwind in the embrace of invigorating hot tubs, where the soothing embrace of bubbling waters enlivens your senses and awakens a state of blissful tranquility. Envelop yourself in the purifying heat of our bespoke saunas, cleansing your body and spirit as you sail across the vast azure expanse.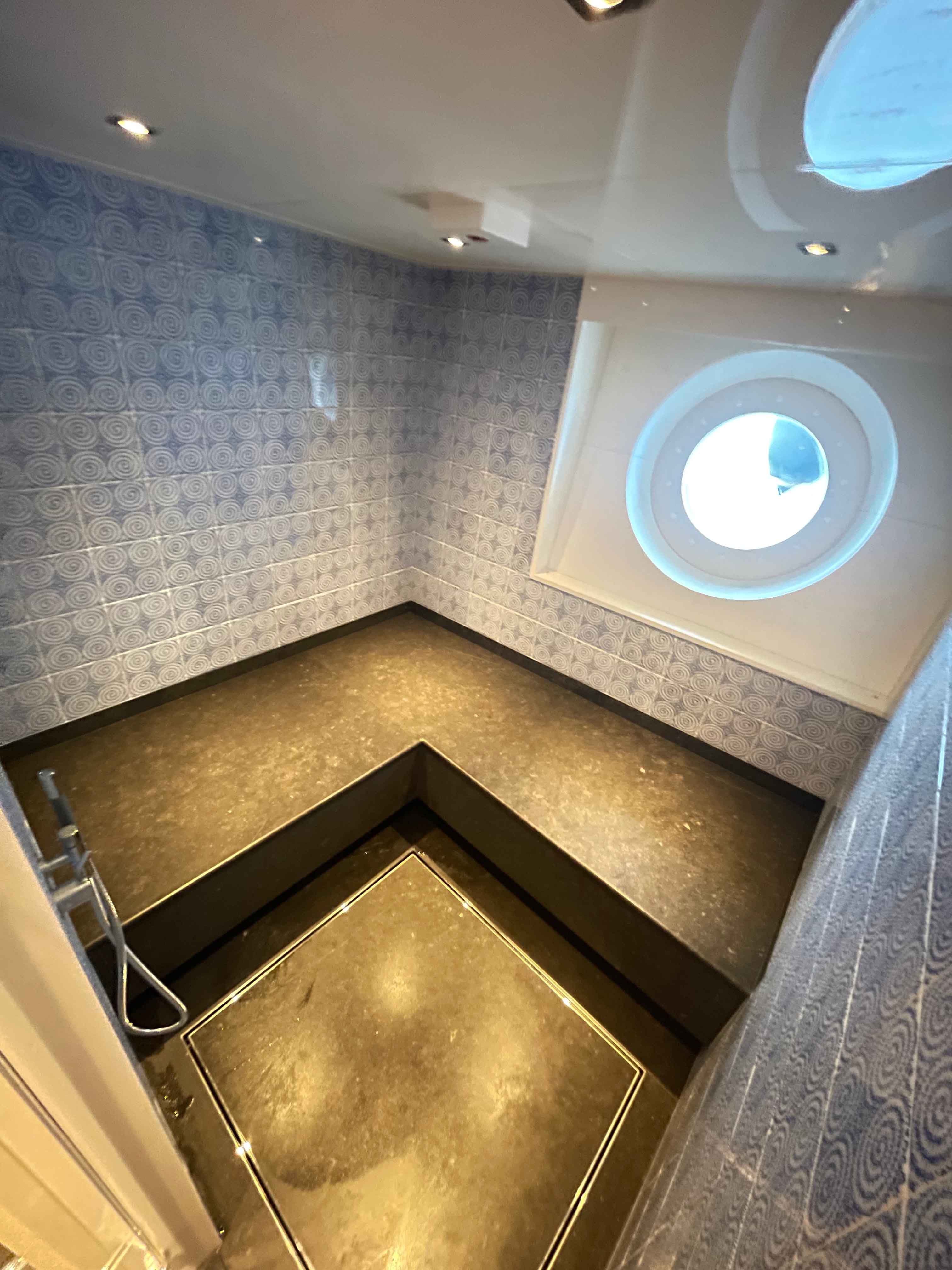 For those seeking the harmonious healing of mind and body, surrender to the allure of our revitalizing steam rooms. Feel the delicate mist enveloping you, as the gentle warmth penetrates deep into your soul, melting away the burdens of everyday life. And for the ultimate in indulgence, experience the transformative power of our dedicated massage rooms, where skilled therapists transport you to a realm of pure bliss and rejuvenation.
The allure of private spa solutions extends beyond boats and yachts, captivating the hearts of those who reside in residential complexes on water. Sauna Dekor offers a range of unparalleled options for these residential paradises, where inhabitants can immerse themselves in a world of boundless luxury and wellbeing. Picture yourself stepping into your own private sanctuary, replete with soothing saunas, invigorating steam rooms, and tranquil hot tubs, all crafted to cater to the refined sensibilities of those who seek balance and serenity.
At Sauna Dekor, we understand that our clients desire only the finest. While we respect the privacy of leading providers in the industry, rest assured that our commitment to luxury and excellence knows no bounds. Each spa solution we offer is meticulously created with unparalleled craftsmanship and attention to detail, ensuring an unparalleled experience for our esteemed clientele.
Embrace the splendor and elegance of yachting, while immersing yourself in the realm of private spa experiences that Sauna Dekor presents. Discover a sanctuary of relaxation and rejuvenation, where every moment is suffused with opulence and grace. Let us guide you on a remarkable journey towards serenity, balance, and wellness. Welcome home to the epitome of luxury and wellness with Sauna Dekor."